Botanical pavilion
A personal report on NGV Triennial (2) is the second part of documenting my experience in National Gallery of Victoria Triennial. Also, you can read first part here.
Botanical pavilion
Botanical pavilion by Japanese architect Kengo Kuma and associates (established 1990) and Melbourne-based artist Geoffrey Nees (Australia, b. 1970) has been my favorite project in this year's NGV Triennial. This architectural installation has been made in response to the philosophical nature of Korean artist Lee Ufan's painting (Dialogue 2017) that I will write about it next. The installation is a circular pavilion as makes a walkway to approach Ufan's painting. Although, independently, the pavilion was amazing! In the Japanese wooden architecture timber pieces interlock, and held by tension and gravity, and the created pattern was sensational. I seriously loved how it passes the light through and that made me enjoy walking inside the pavilion. I just wished to be able to spend a long time there in silence!
Timber used to make this architectural installation were provided from the removed or broken trees of Melbourne's Royal Botanic Gardens and some very old, pre-date European settlement.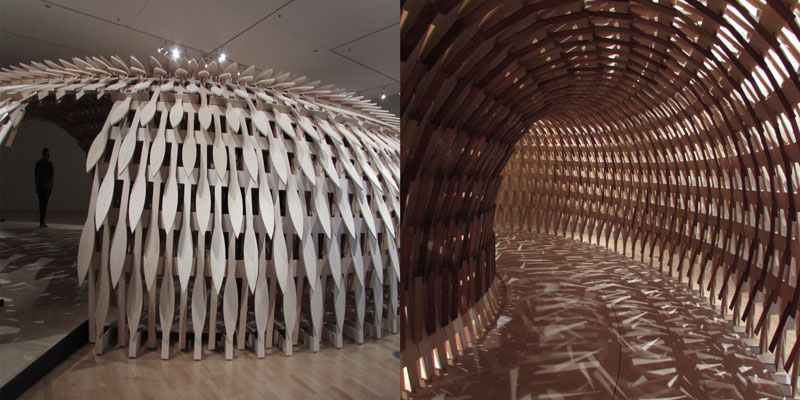 Dialogue
This painting from Lee Ufan (Korea, b. 1936) is a vibrant brushstroke represents the relationship between painting and blank canvas and the space they create together. Lee is famous as the main theorist of the Mono-ha ("School of Things") movement in Japan.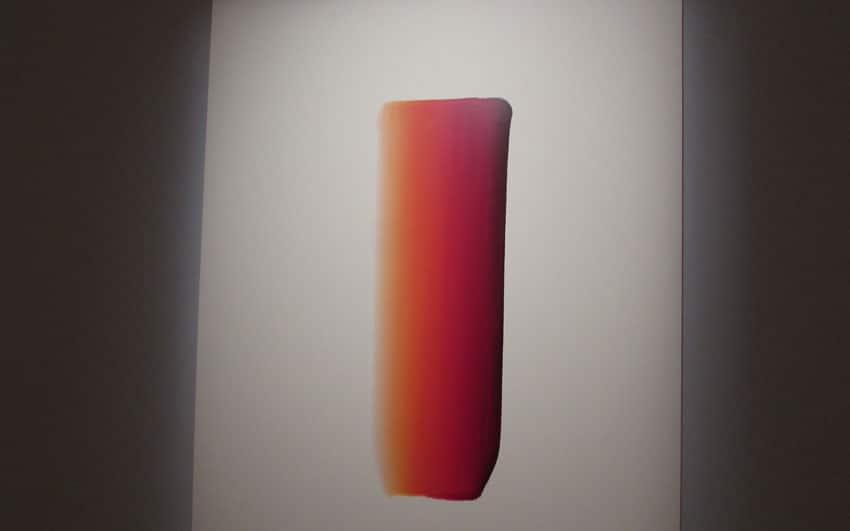 Can we all have a happy life
Can we all have a happy life 2019–2020 is made up of a series of bark paintings and larrakitj (hollow poles) by Dhambit Munuŋgurr (Australia, b. 1968). Attractively, the paintings are telling stories like how the artist's grandfather was saved by dolphins. Another tale was about Djulpan, seven sisters (constellation Pleiades) who have the authority of lighting fires at their world before humans set their seasonal fires. And early fires set by humans makes them cry to put those unauthorised fires out! The paintings all had some lovely stories. Arts of these series are created in an art centre located in the small Aboriginal community of Yirrkala in Northeast Arnhem Land.
Planet City
A dominant theme in NGV Triennial, was climate change and its effect on human life. One great work was Planet City from Liam Young (Australia, b. 1979). This 15 min animation represents "Planet City" as a city that is housing the whole world's population, that allows the rest of world and nature to heal and recover. The idea was very interesting and the way it was visualised and animated in that dark very intense city was thought-provoking. Also, humans are in strange costumes representing their job and potential professions in the Planet City.
Cylinder bench seat, Column and Chair from the Growth Site
When I entered this gallery I just said Wow! Look at that beautiful cobalt blue! Elliot Bastianon (Australia, b.1986) has grown copper sulphate crystals on the surfaces. This is to remind us of nature's ability and potential to create, grow, adapt and develop new aesthetic standards.
In the middle but in the corner of 176th place
The large installation of "In the middle but in the corner of 176th place" from Diamond Stingily (US, b. 1990) consists of standard athletic trophies. However, the artist replaced the labels that generally contain information like the sport and ranking with some other messages like "Those who can and those who cannot" or "Through all the madness this all you gone get". The quotes tell us about the culture of an achievement-based society, competition, victory and failure. The artist was very innovative in passing her message!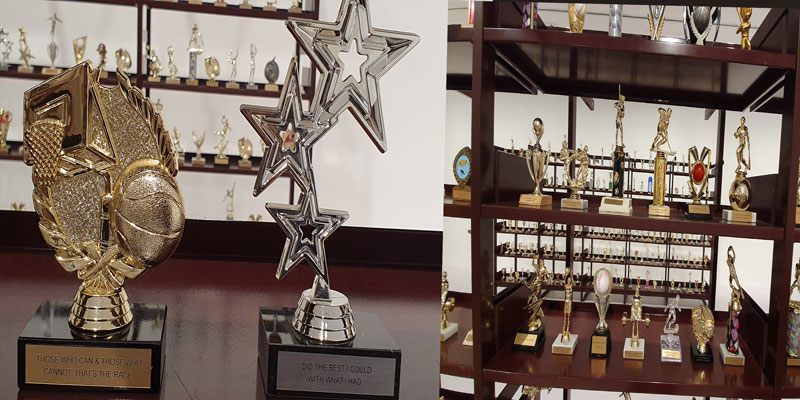 Last words of John Brown (red version)
Nari Ward's (Jamaica, b. 1963) last words of John Brown (red version) is one of artist's shoelace installations reflecting on political, social and historical events or characters. "This is a beautiful country", written using red shoe laces is the last words of John Brown, whom was condemned to death. The reason was that he was an abolitionist and believed in using violence in fighting for the freedom of black slaves. Also, this reminds us of today's racism and discrimination issue.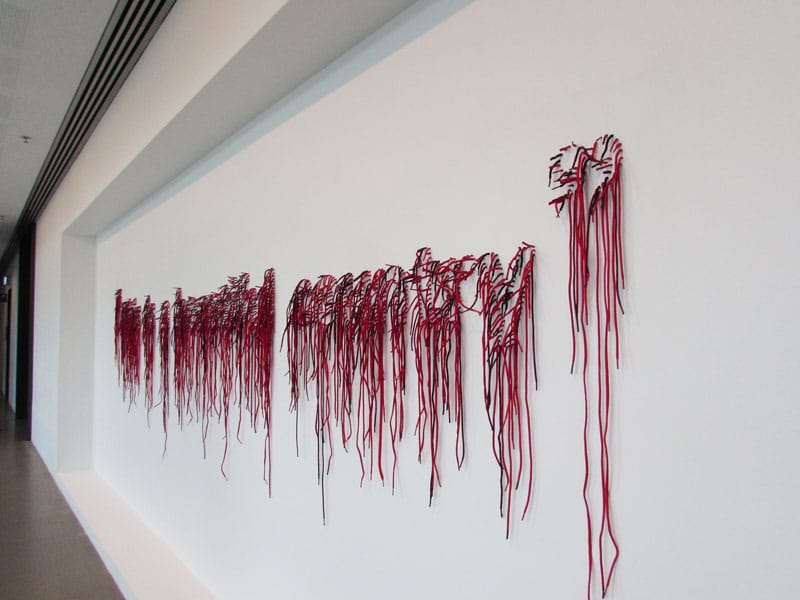 Last words of John Brown, created by Nari Ward