This is a a personal report on National Gallery of Victoria (NGV) Triennial, this year. I have visited NGV Triennial recently and decided to write something about it and upload few photos. As always, I really enjoy visiting NGV and great art collection rich in paintings, photos, sculptures, movies and animations from artists around the world. Also, there are several specific gallery spaces for kids and you can have fun as an adult! I just write about some of them without any specific order.
Quantum Memories 2020 by Refik Anadol
They always have something great in the entrance and this time, it was "Quantum Memories 2020" by Refik Anadol (Turkey, b.1985). This huge screen represents rich visuals made using quantum computing with machine learning algorithms and that was fun to watch! Apparently, this is the future of art!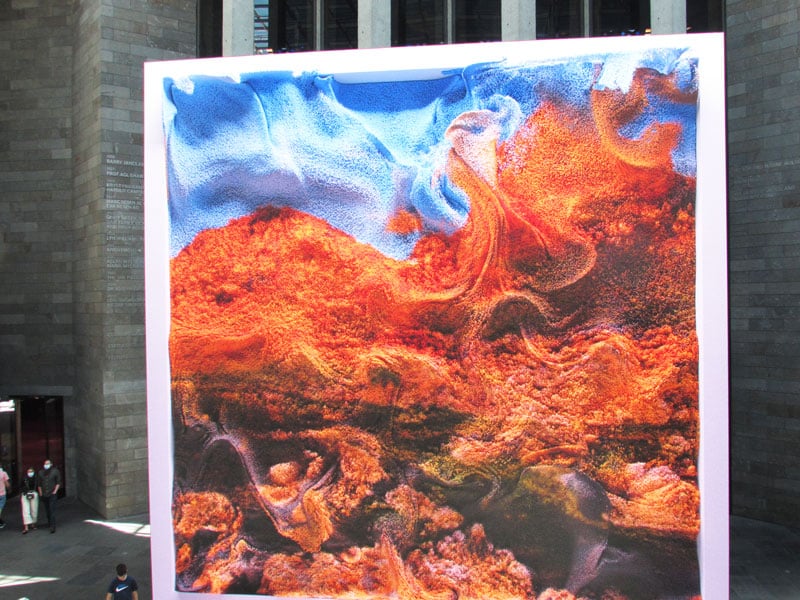 Megafauna 2020 by Tabor Robak
Another AI-based project was Megafauna 2020 by Tabor Robak (US, b.1986). This project turned data in various science and technology areas to animations using an AI-based technology and displayed them on big screens. You, as a passive viewer find yourself surrounded by machinic animated forms that are repeating over and over. In the description of project, it has been mentioned that "the work explores the ethical and philosophical implications of our attitude to technology." I hope it is successful in passing this message to the viewers.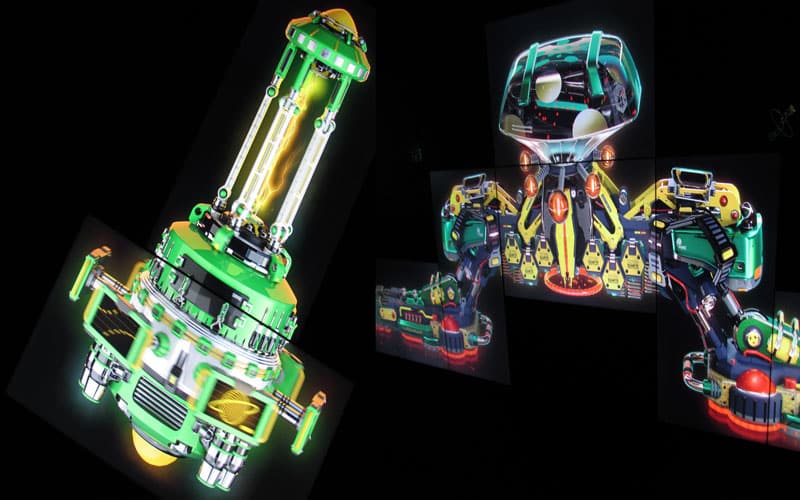 Memory of Hope 2017, by Aïda Muluneh
I am very delighted to see that there are a significant number of art works by African artists. One of these artists is Aïda Muluneh(Ethiopia, b.1974) with her photo series "Memory of Hope". The face of women in photos is painted and that is a feature in several other works of artist as I had a look in some of her other photos. So, it seems that artists' intention is to show the persona of these women not their actual character.
Impartiality 2018, by Pierre Mukeba
Another painting by Pierre Mukeba (Democratic Republic of the Congo, b. 1995) shows four African women in different stages of their lives. Pierre Mukeba explains about Impartiality 2018 in his interview with New York Times. According to the artist, "the subjects are at different stages in their lives and journeys, but all project strength in their demeanor. This is reflective of the African woman and how she, no matter her age, is often the backbone of our families."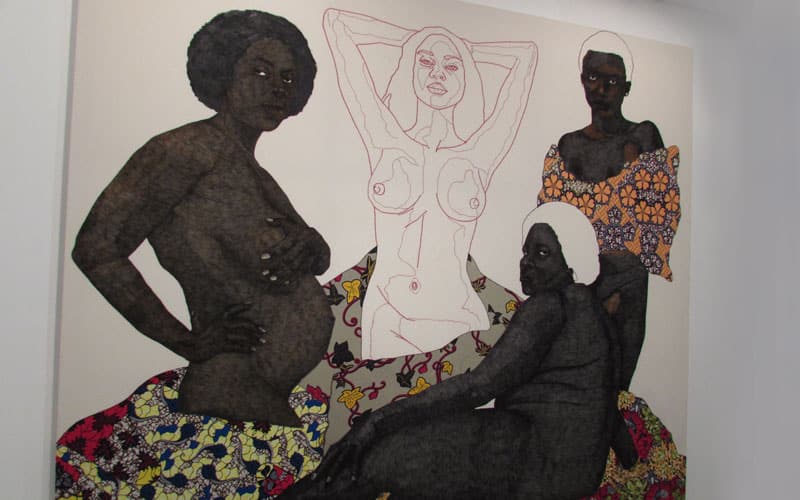 Moving Shadows series by Girma Berta
Moving Shadows series by Girma Berta (Ethiopia, b. 1990) all have been captured from ordinary people in the streets of Addis Ababa. Like most art works I have seen from African artists, colour is a central element. The colourful plain background of photos and the subjects unaware of photographer and busy with their lives sounds familiar and raises questions at the same time.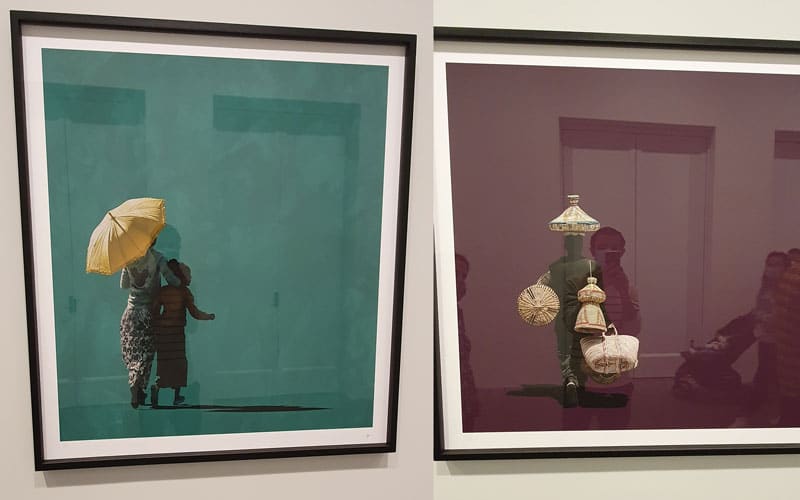 Stranger in a familiar land by Sarah Waiswa
The next series of photos depict a woman who is rejected by her community due to her physical difference. Sarah Waiswa (Uganda, b. 1980) in her 2016 photo series "Stranger in a familiar land" tells the story of an albino woman, Florence Kisombe, wandering within the Kibera slums in Kenya.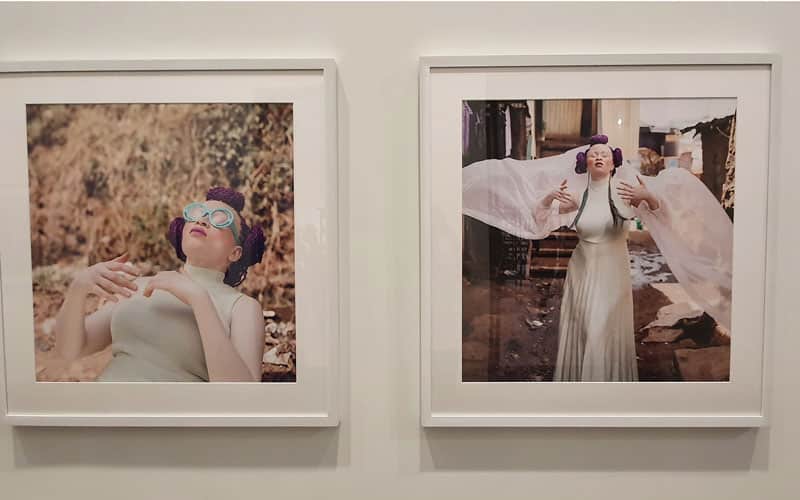 Sack of wind: a rock harder than rock, by Clare Milledge
"Sack of wind: a rock harder than rock" is a series of glass paintings by Clare Milledge (Australian, b.1977). "The Song of Amergin", from the Irish Mythological Cycle has inspired the artist to create this series. The paintings depict a woman's legs, hands or the fallopian tubes and fimbriae, as well as other architectural form in the light of the moon.
Wooden sculptures by Tomoaki Suzuki
Wooden sculptures by Tomoaki Suzuki (Japanese, b. 1947), are extraordinary! I could not believe they are carved from wood at first! The artist uses real ordinary people with particular personal style as the model of his sculptures and then the finished sculptures are positioned on the floor. I just loved walking in that room full of small wooden people whom I know live somewhere around!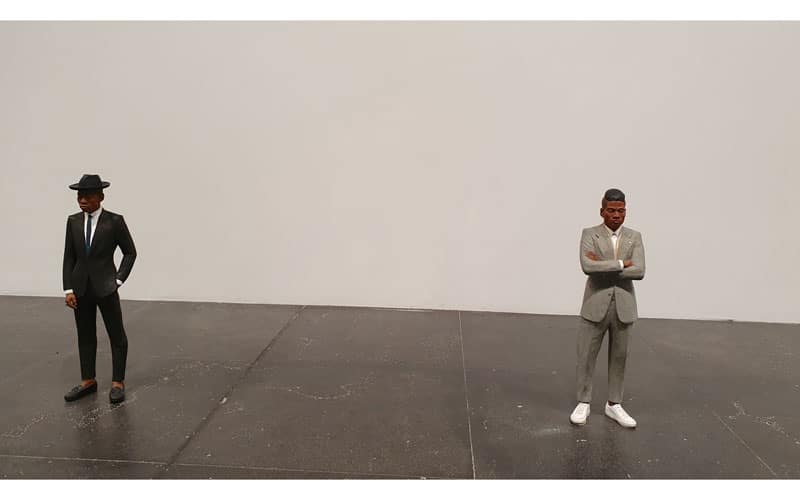 Look 2, Ensemble, by Richard Quinn
And of course NGV has a part for fashion exhibition. This dress is designed by Richard Quinn (UK, b. 1990) in a very specific style and detailed embroidery and references the dress codes of English "Pearly Kings and Queens"! I searched a little about them and found out that "Pearly Kings and Queens" is a charity ogranisation. This tradition has begun by Henry Croft (1861-1930), who was an orphan street sweeper and he was collecting money for charity. He used to decorate his clothes using pearls to draw people's attention to his charity causes and he left this tradition after his death in the form of several charities in London.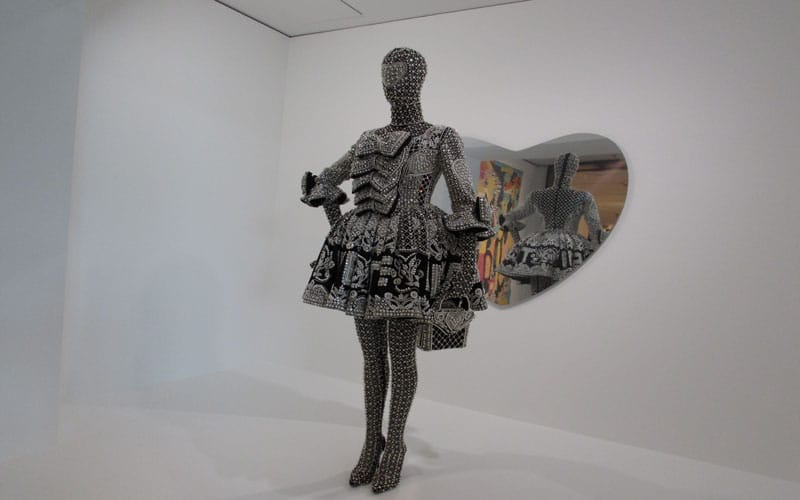 Top and skirt, by Tomo Koizumi
The next one is Top and skirt, designed by Tomo Koizumi (Japan, b.1988). He used 200 meter of fabric (Japanese polyester organza) for this dress. I am wondering how heavy this dress is! Anyway I do not think that is an important factor in the fashion art! The colours he used for the dress are really nice and vibrant!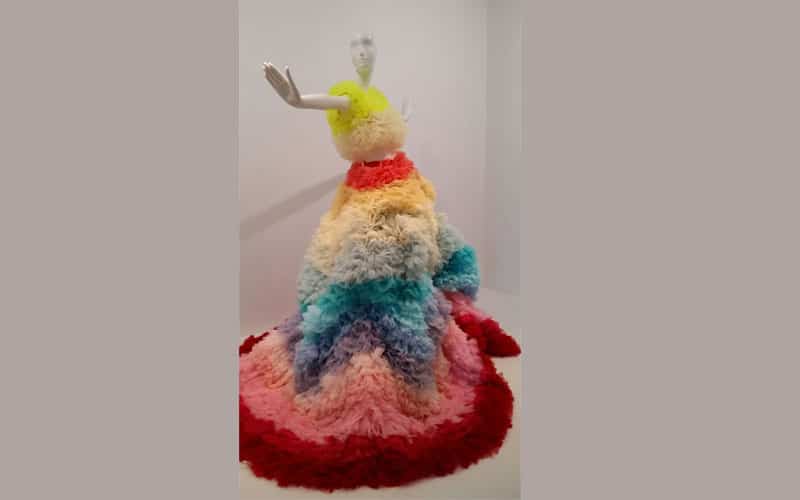 Queen Niya Yoruba Corona, by Yann Gerstberger
Queen Niya Yoruba Corona xxx3 2018 and Queen Niya Yoruba Corona xxx2 2018 are tapestries made by Yann Gerstberger (French, b. 1956). My first impression after seeing this tapestry was to recognize cubism elements and then I read in the description of his art that he is inspired by Picabia as a cubist painter. However, his main inspiration to create this work has been patterns found in Mexican popular culture. In these tapestries, the artist creates a vernacular vocabulary referencing Alejandro Jodorowsky's comics Fábulas Pánicas. Yann Gerstberger is an explorer and traveller and when an artist is open to be exposed to different cultures and art, the result is a fusion of various elements inspired by familiar and unfamiliar resources. I like this!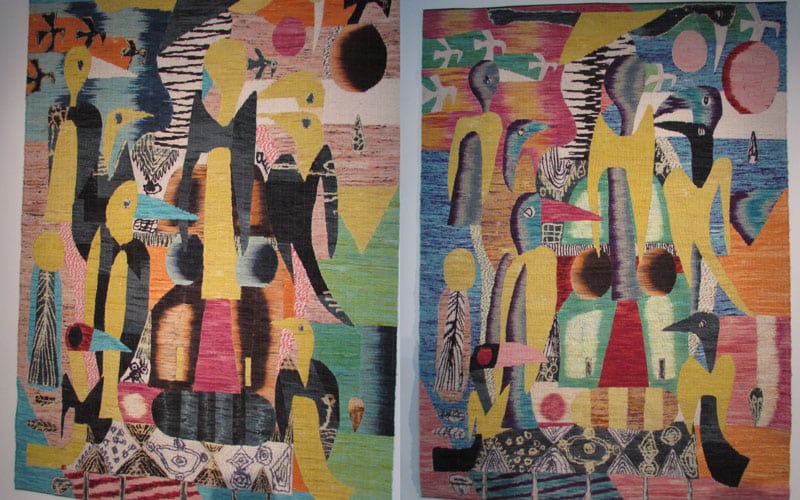 Reference: