I am using keum boo technique to attach gold foil on silver for awhile and in this post, I want to write about the results I got by trying keum boo in copper. I have written about keum boo and its basis here. Like what I showed and explained in this video, I am using enamelling foils that are thinner than keum boo foils. So, I do not expect well-defined edges and accurate shape. I want to just make an impression! As copper oxidizes fast, you need to try to reduce the time of heating the metal. So, I do not complicate the design and press all the pieces in one step. Then, I usually apply the second layer and finish it. Second layer is required as I am using thin foils. If you use keum boo foils, you wouldn't need the second layer. I have also made a short video to show how I am adding gold foil to copper.
These are the steps I follow:
Clean and anneal the copper piece
Put the foil between two pieces of paper and then cut it in the size and shapes you need
Use a water-based holding agent like "Klyr Fire" to fix the foils in position
Turn on the heater and let it heat up (around 350 degrees Celsius is a suitable temperature for keum boo)
Then, hold your piece using tweezers and use agate burnisher to press the foil on metal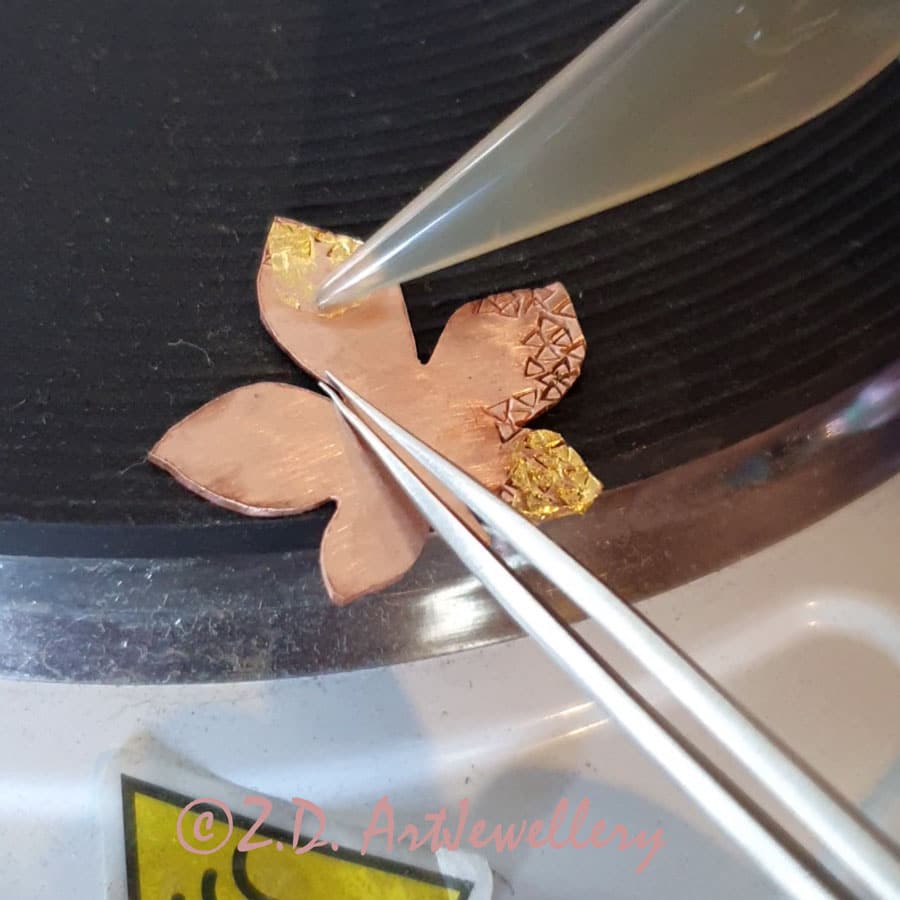 These thin foils are scratched easily when you are pressing the foil against metal. Let the metal get cooled down and apply second layer and repeat the steps to attach the gold foil to metal
It is also a good idea to use liver of sulfur (LOS) to patinate the metal. It will not oxidize the gold and only blacken the copper
You can use the design ideas in this post.