I am writing about an ancient technique, keum boo, particularly using thinner foils of 24k gold used often for enamelling. It is an ancient technique, but it has many modern applications particularly in jewelry art. Keum-boo is a technique to apply gold to silver or few other metals permanently using 2 key factors, heat and pressure. First, you need to prepare the metal surface. If you are using sterling silver, depletion gild it and bring silver to surface because formation of oxides will prevent the process. The surface should be completely clean. So, you can use ultrasonic cleaning or sometimes I give it a light polish and then clean it with denatured alcohol thoroughly and it works for me. After cleaning, do not touch the surface of the metal! You need a 24k gold foil (not gold leaf). The best option is obviously to make your own foil or use specially made keum-boo foils (like the ones Rio Grande offers). I know that keum boo also works with 23k gold foils but I have not tried other alloys.
The second option is to use enamelling foils that are thinner and you will probably need to add them in more than one layer. Plus, it is hard to get the defined edges with these foils. I am usually using enamelling gold foils. Selection of foil can also depend on your budget and design.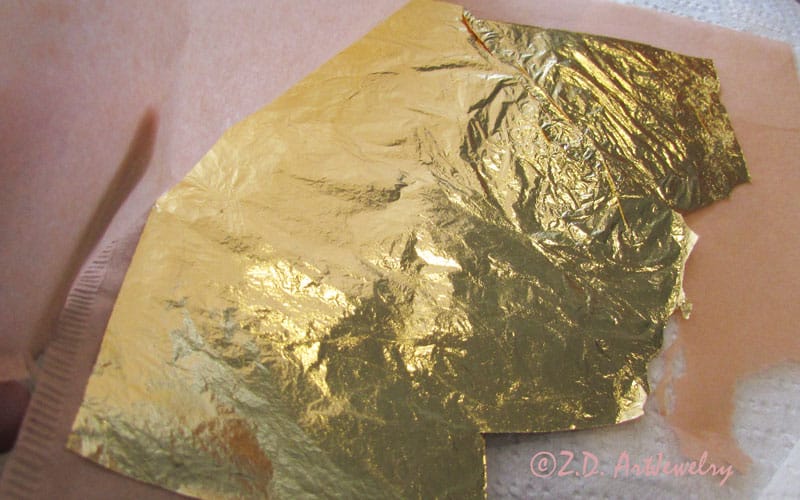 What you need for keum boo is your silver piece of jewelry, tweezers, scissors, 24k gold foil and an electrical heater. First, I am cutting gold foils in the size and shape I need. Put the foil between two pieces of paper and then cut it and if you need few identical foil pieces, cut them together. It makes drawing and cutting complex shapes easier and keep the foil clean. After cutting, fix the position of foil on the metal (using tweezers).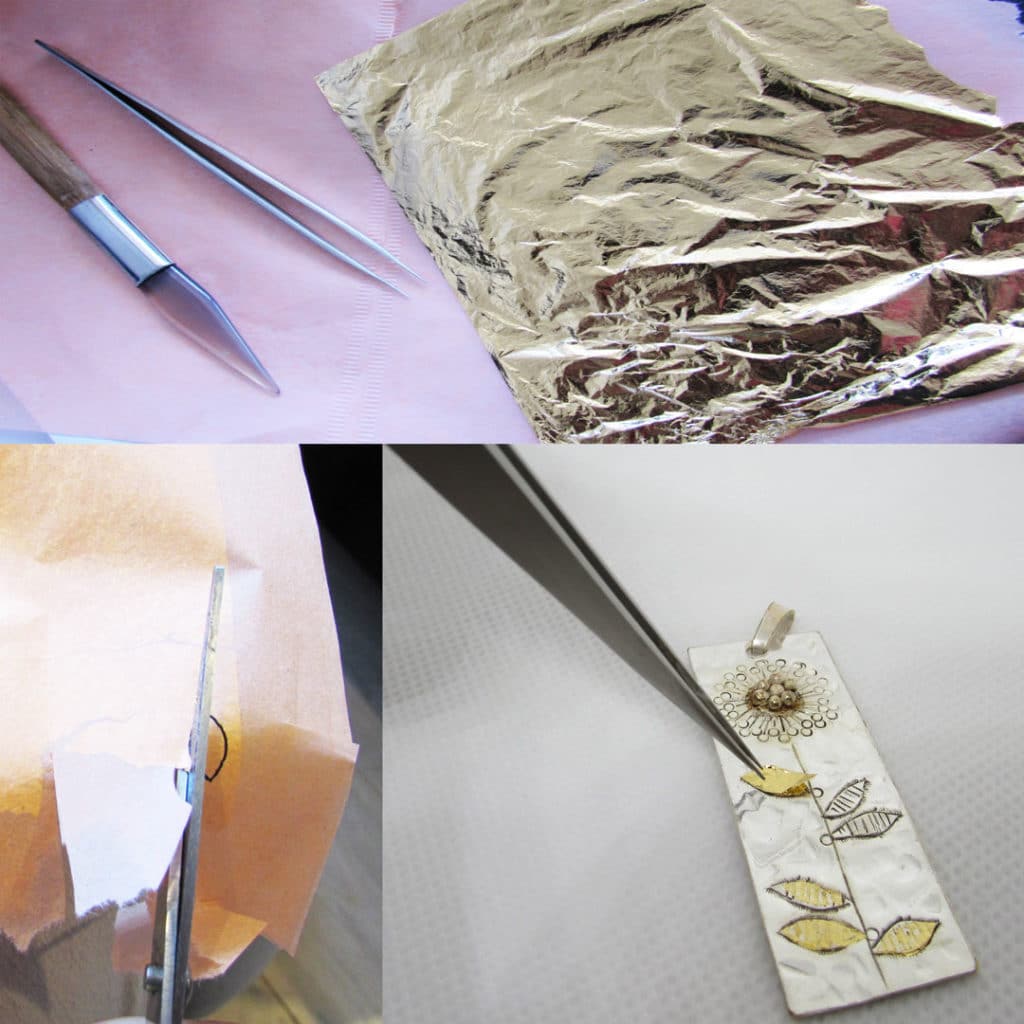 I found that using a water-based holding agent (I am using it for enamelling) will hold the piece better, until I press it on the metal. It is helpful and also cheap, but not necessary. However, I found that this reduces the time required on the heater. After that, I am putting the metal on the heater. You need to optimize temperature. I am using an electrical heater for keum-boo. My heater has 5 degrees of heat but does not show the temperature and I am using the medium heat. 350 degrees Celsius (662 F) is suitable temperature for keum-boo. If your metal piece is not flat and difficult to apply the foil, you can use tweezers or copper tong on the heater and adjust the position of your piece (like earrings with soldered wire or post!). Let your metal heat up for few seconds and then press the foil using agate or steel burnisher (I prefer agate). If you have a complex design, apply the foil in more than one stage and do not let the burnisher get hot.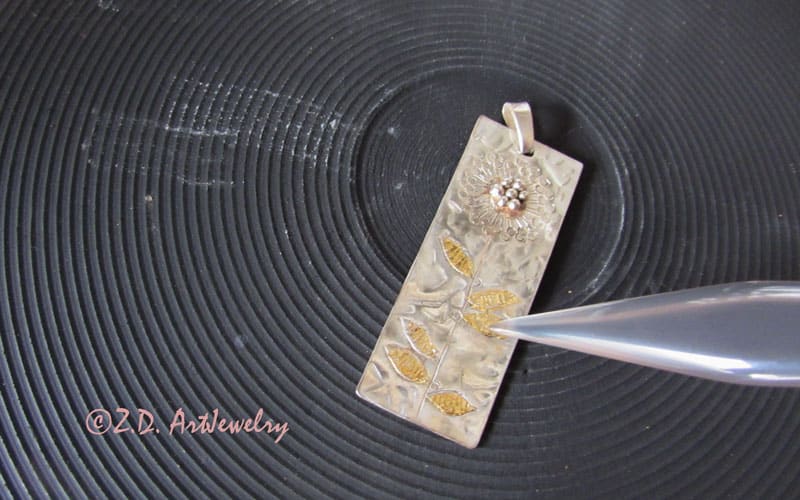 As discussed, when you want to use enamelling gold foils for keum-boo, this is always a good idea to define the shapes, patterns and edges and then enrich your design by adding gold foil. In these cases, applying enamelling foils work very well. Chasing and repousse techniques, engraving and embossing are from the techniques you can use before applying your gold foils. The necklace that I am working on has chasing details and you can see the chased lines enhances the fold foil and the whole design. You can see some examples here and here.
You can also use it to add a tinge of gold to your works like to the wings of these birds and these ones.
The third application is when you cut a piece with a certain shape and solder on another piece of silver. Like the autumn leaves here! Also this little fire inside the lantern is another example.
Other application is the designs with irregular patterns. In this case, also you do not need to see very clear edges and shapes and enameling foils work very well.
I have a video about using enamelling gold foils for keum boo here. Please watch it.
I also suggest you to read this good article written by Charles Lewton-Brain.