Metal stamping can add to your jewelry design options. Stamps are being made from stainless steel and hardened. They come in various shapes and  sizes and you can use them on any metal. What you need for stamping is your metal blank, stamp, stainless steel block or any hard surface and brass mallet or hammer. According to my experience, brass mallet is really suitable for metal stamping. It prevents bounce back and has a heavy head that reduces slipping the stamp. Also, it does not mar your designing stamps.
I have recorded a short video to show you how I am using metal stamps here.
How to use stamps?
Secure your metal blank on the steel block. You can use tape, particularly for small pieces
Use a marker to mark where you want to use your stamp on metal
Hold the stamp in an upright position and strike the stamp with the mallet to make a clear imprint
If your stamp is tiny, strike just once. Of course, you need to test it first on a piece of metal to make sure that you get the clear impression with just one strike
However, if you have a larger stamp, you will need to strike the stamp more than once and tilt it in different directions. Try to not lift the stamp between strikes! Other wise you will get the ghost impressions! If your stamp slips and you get more than an imprint, you might be able to remove it using sanding papers in various grits. Start using a grit that you think is suitable depending on the depth of ghost imprint! Of course, I know that it can be very frustrating. Practicing makes us better!
4. This is just a suggestion that you can use liver of sulphur to blacken the imprints of the stamping. That way, you will create a nice contrast and brings out the details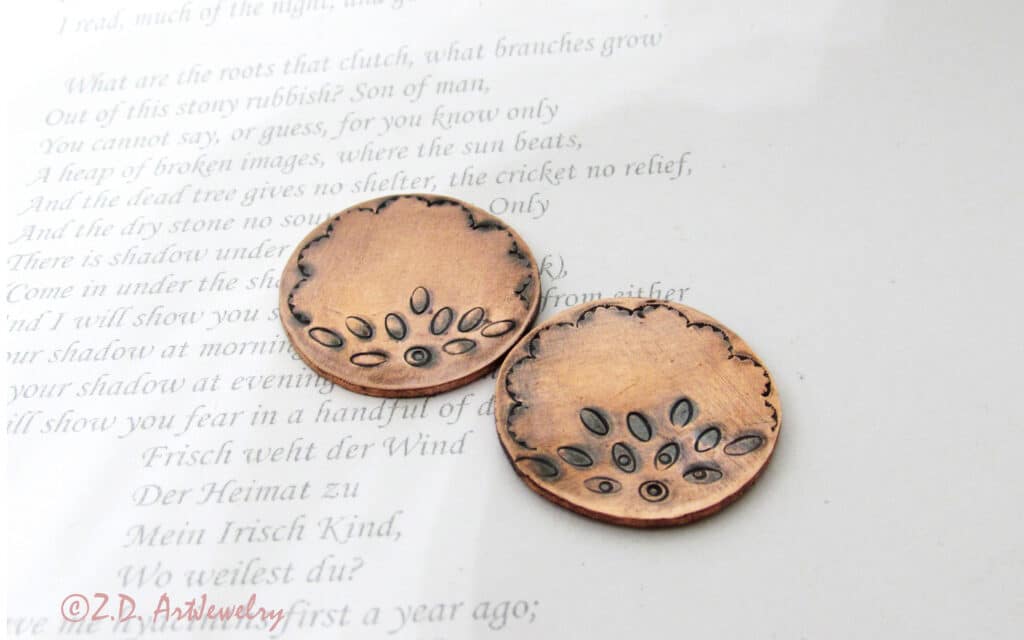 I have used stamping to design and create this pendant , this jewelry set and this one.
Check out the metal stamps available on my website.