In the beginning of my journey, the first skill I needed to learn and master in order to work with metal was to use a jeweler's saw. So, I bought a large aluminum sheet (from Bunnings warehouse!) and started to cut various blanks, shapes and designs.
You can punch a hole in area you want to cut out, then remove one end of saw blade of its frame and thread the hole onto your saw blade before tightening the saw blade again. Jeweler's saw blades are very fine and therefore you can cut very intricate and complex shapes and designs using a jeweler's saw. You might see intricate and beautiful jewelries with mandala design using only jeweler's saw. This is one of my past designs. What you need is only a bench pin and clamp, jeweler's saw, saw blade, bees wax or any other lubricant and a metal sheet.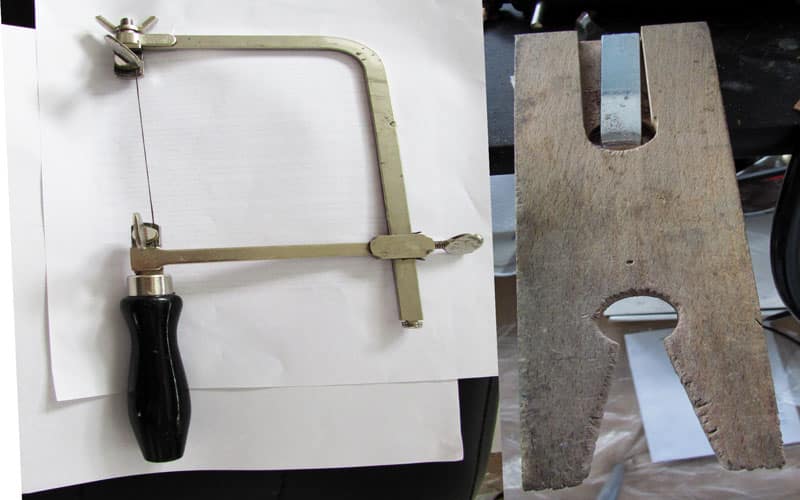 Saw blades are known and used based on their size. We have usually sizes 0-6 (or larger) in which the larger the number is, the thicker the saw blade would be. On the other hand there are sizes 0-0.6 in which as larger the number is, the finer the saw blade would be. Therefore, between the sizes 0.6-6, 0.6 will be the finest and 6 will be the thickest. If you are working with metal, the rule of thumb is that saw blade should have 2-3 teeth for as thick the sheet you are cutting. Usually in cutting metal to make jewelry I am using sizes 0.2-0.4. There are budget saw blades in market as well as some high-quality brands' saw blades that cost more. I have started with budget blades and then after a while switched to the ones with better quality. Purchasing saw blades is one of constant costs, because everyone who is cutting metal knows that breakage of blades in unavoidable!
To insert the blade in the saw, loosen the screws on the frame. Then put one edge of blade in the screw on the handle and tighten it. Then screw the other edge tightly. At last, tighten the blade length adjustment thumbscrew. Also using this screw you can change and adjust the length of blade. So you can use blades in different sizes even a broken one.
This video shows how to insert a blade in jeweler's saw frame